Hydrogen boilers: the future of heating
With the UK government's 2050 net zero target edging ever closer, there is an increase in focus on finding and switching to greener energy sources. However, for the heating and hot water industry, switching away from carbon completely is a complex process. This is because the majority of UK homes use natural gas for their heating.
When the UK is ready to move towards hydrogen boilers and greener heating sources such as heat pumps, Navien UK is ready to help with that transition thanks to the H2 100% Hydrogen boiler for the future.
Timeline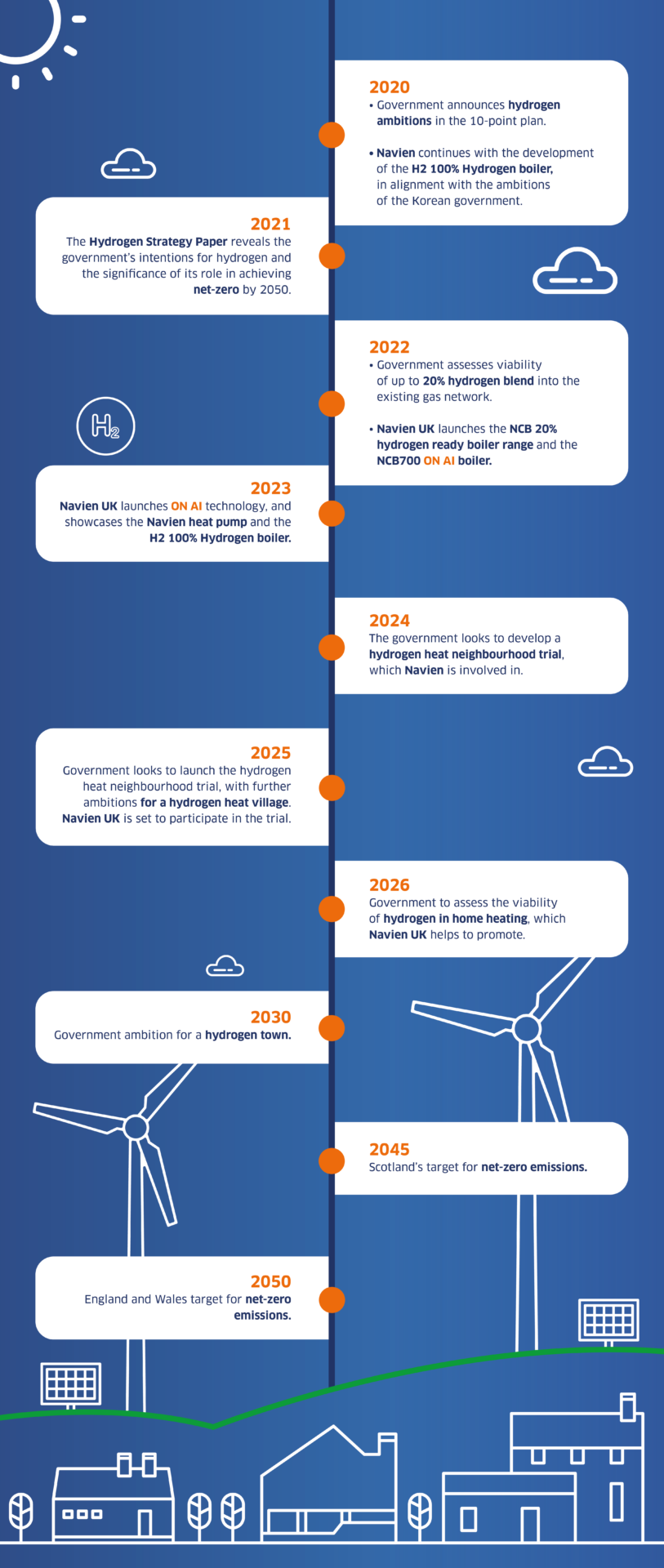 Why hydrogen boilers?
With a third of UK greenhouse gases coming from homes, the UK cannot meet its climate change targets without a significant change to home heating and fuel.
The simplest solution is to replace natural gas boilers with hydrogen gas. Hydrogen is a completely carbon-free fuel source and can easily integrate into an existing boiler space in homes with little disruption to the homeowner.
Boilers will soon be 100% hydrogen ready, where they can be installed as a natural gas boiler. When hydrogen is supplied in the future, through the existing gas network, then a small conversion kit can be used to convert the boiler from natural gas to hydrogen.
---
Hydrogen boiler FAQs
What does the term '20% Hydrogen blend' mean?
Almost all gas appliances in use today, including boilers, are able to run on a mixture of hydrogen and natural gas. This is called a hydrogen blend. This means 20% of the fuel source being used is hydrogen gas with the remaining 80% runs on natural gas.

Our range of 20% Hydrogen Blend boilers features the NCB300, NCB500 ON, NCB700 ON.
What is a hydrogen-ready boiler?
Hydrogen-ready boiler is a gas-fired heating boiler that is capable of burning natural gas or 100% hydrogen. Hydrogen-ready boilers will be important in converting the existing natural gas infrastructure to hydrogen.
Hydrogen is a carbon-free energy carrier, and the combustion of hydrogen produces zero carbon dioxide at the point of use.
Hydrogen can be manufactured from water using electricity or from natural gas alongside carbon capture and storage.
All hydrogen-ready boilers are designed to be a natural replacement for an existing gas boiler. The boiler can be easily converted to burn hydrogen when the local network makes the switch.
How does a hydrogen-ready boiler work?
The boiler functions similarly to natural gas boilers. It is built in the same way and works in the same way. Most of the components are also identical.
It takes just an hour to convert a hydrogen-ready boiler from natural gas, changing a few components such as the burner. In time, Gas Safe Registered engineers will be trained to work with hydrogen in a similar way to LPG.
Why are the UK government changing from natural gas to Hydrogen?
Due to the amount of CO2 produced when natural gases are burnt, they cause a damaging effect to the earth's atmosphere. According to the Energy Saving Trust, 31% of all household emissions come from central heating.
In contrast, there is no CO2 created when burning hydrogen, while there are also many production methods that require very little carbon usage. This is the reason that the UK government is implementing a switch to hydrogen as part of their net zero by 2050 initiative.
How will the transition to hydrogen work?
The transition from natural gas to hydrogen gas will happen in three stages:
Stage 1
New boilers will be built to "hydrogen-ready" standard, so they can run natural gas but easily changed to run 100% hydrogen. This is estimated to happen between 2026-2030.
Stage 2
A 20% hydrogen blend will be introduced into the gas supply. Most boilers will be able to use this as normal without any modification. This is expected to happen in 2026, at the earliest.
Stage 3
When the switch to 100% hydrogen happens, every new boiler in the UK will be a hydrogen boiler. This likely won't happen until the mid-2040s.
What is the current state of Hydrogen Boilers?
The first hydrogen homes and villages are being trialled to find out how easy it will be to replace your current boiler and appliances with hydrogen-ready ones. This switch will help create tens of thousands of jobs in the UK, reduce greenhouse gases and end our reliance on fossil fuels from overseas. Navien UK is actively involved in supporting this transition.
The UK government is currently carrying out trials on cost, feasibility and safety, a firm decision on the role of hydrogen in heating will be made by 2026.
For more information, please get in touch today.