About Us
Over 45 years in global innovation of domestic and commercial heating.
Since 1978, the Navien group has been pushing the boundaries of innovation by providing our customers with the best boilers and solutions to meet the changing domestic and commercial heating needs. From launching Asia's first condensing gas boiler to launching the Wall Hung Gas Boiler, we have continually designed the best and most reliable products with our customers in mind.
Today, Navien is the fourth largest gas boiler manufacturer in the world, placing us at the forefront of domestic and commercial heating markets.
Navien in the UK
Navien has been in the UK since 2014 and has since become an established manufacturer of gas boilers in the UK market. Since entering the gas boiler market with our NCB-CE gas condensing boiler, we have gone on to introduce the class-leading LCB700 Blue Flame condensing oil boiler, which has become the leading boiler of its type.
In 2022, we launched NBC700 ON – part of the Combi Crossover category – the first combi boiler capable of delivering hot water to three showers simultaneously. We're also working towards the future with our preparation for the eventual move to hydrogen boilers when our customers are ready.
With water heaters, smart controls, and our latest Smart Plus ON AI controller, Navien UK provides the best selection of heating products for homeowners and businesses.
Manufacturing & Company Philosophy
We have been designing and manufacturing reliable and easy-to-install boilers for over 45 years. From the latest gas and oil-fired technology to micro-CHP and solar, we are committed to developing highly efficient heating equipment.
Our state-of-the-art facility in South Korea, is the largest single-site heating product manufacturing plant in the world, producing 2 million units per year. We use the latest research and development, along with high-tech manufacturing methods to create unrivalled quality, unbeaten performance, and superb reliability over their lifetime.
Technological innovation
It's through years of research and development that we can add the latest technology to all our boilers.
NCB ON – available in our NCB700 ON Combi Crossover and NCB500 ON Combi Crossover boilers – cleverly maximises the recirculation of domestic hot water while reducing water wastage to deliver hot water for up to three showers at once. Inside, our NaviCircTM valve reduces the time it takes for hot water to reach the pipe, saving energy and water.
On top of this, the ON AI app gives users complete control of their heating system, with the help of artificial intelligence, to keep bills down.
Through more research, development and feedback from our customers and installers, we will continue to innovate – bringing the latest and best technology to our heating products.
Quality first
We design and manufacture our boiler components to deliver maximum reliability and performance.
Fully tested
Before leaving our factory, every boiler undergoes a thorough, two-stage testing procedure. This includes our robotised process that completes 55 checks per second. Every unit is also given a full working test by an operative to complete a further 250 quality checks – this ensures all our boilers are of the highest standard.
A global company
KD Navien, the world's leader in green technology, has been exporting HVAC products to more than 30 nations worldwide since 1978.
The Market Leader in Boilers & Water Heaters in South Korea.
The Market Leader in Condensing Tankless Gas Waters Heaters in North America.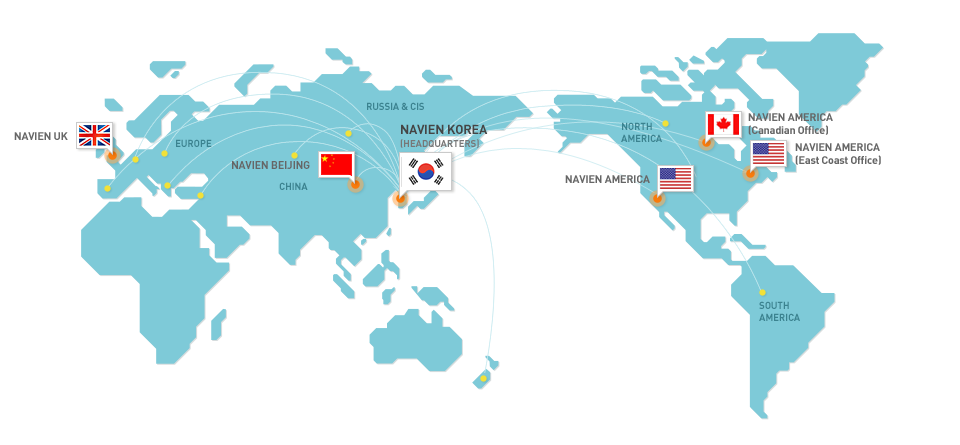 Click on a flag to visit the country website
Our awards